The skID converts your mobile device into a RFID reader
3rd February 2022
The skID (Model R1280IE, R1280IU) is the portable reader with integrated antenna for medium range applications designed by CAEN RFID for mobile operators.
This reader is ideal for inventory management, mobile workers, service and maintenance applications. The reader is based on the Impinj R2000 chipset that allows to achieve fast reading speed and can be used in dense reader and dense tag environments for top-class rated performances.
Thanks to the Bluetooth® communication interface, the skID is a perfect addon for any Bluetooth® enabled host.
The skID can be easily and securely fixed to any mobile device by 3 different methods according to individual needs: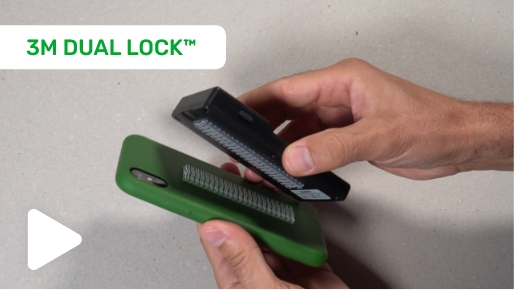 The 3MTMDual LockTM provides a strong, reliable and durable fastening that can be opened and closed multiple times. An innovative fastening system, adaptable to every mobile device such as a smartphone, a PDA or a tablet.
SP-ConnectTM catalogue offers a wide range of phone cases compatible with the following smartphone models:
iPhone 13
iPhone 13 Pro
iPhone 13 Pro Max
iPhone 13 Mini
iPhone 12
iPhone 12 Pro
iPhone 12 Pro Max
iPhone 12 Mini
iPhone SE (2020)
iPhone 11
iPhone 11 Pro
iPhone 11 Pro Max
iPhone XS/X
iPhone XS Max
iPhone XR
iPhone 8
iPhone 8 Plus
iPhone 7
iPhone 7 Plus
iPhone 6/6S
iPhone 6/6S Plus
iPhone 5/5S/SE

Galaxy S21
Galaxy S21 Plus
Galaxy S21 Ultra
Galaxy Note20
Galaxy Note20 Ultra
Galaxy S20
Galaxy S20 FE
Galaxy S20 Ultra
Galaxy S20 Plus
Galaxy Note10
Galaxy Note10 Plus
Galaxy S10
Galaxy S10E
Galaxy S10 Plus
Galaxy Note9
Galaxy S9
Galaxy S9 Plus
Galaxy S8
Galaxy S8 Plus
Galaxy S7 Edge

HUAWEI
P30 Pro
Mate 20 Pro
P20 Pro

If the case for your smartphone model is not available, you can use the adhesive universal interface that can be attached directly to a phone case of your choice.
Thanks to skID versatility you can quickly and easily transform any mobile device in a RFID reader, disclosing new possibilities of implementation of RFID technology and simplifying the operations in every different application.
Connect the skID to your mobile device and start to read!